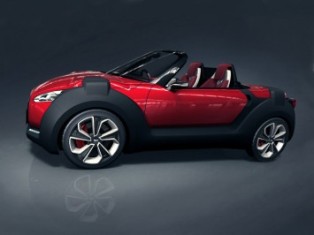 The upcoming Tokyo Motor Show is set to set the automotive world on fire especially since it is the home ground of the world's leading car brands who will be trying to do better than their rivals in every level.
The order of the day would perhaps come from all the big boys like Toyota and Honda while the smaller car makers like Daihatsu has announced that they will be putting out their D-X Sports concept car which would surely give the compact car segment something to be excited about.
Daihatsu has been churning out wonders after wonders so much so that our own Perodua would surely sit up and take notice of this one. Not sure if it would make it here but it would be great if it goes into production. Daihatsu calls it a 'new kind of sports car' where it comes with a resin-based body with some so-called '4×4 style' body. It will be powered up through a 2 cylinder engine which will be turbocharged and direct injection.
Plastic is used on the bumpers and the wheel arches as well as the sills and with the top down, it looks so much cooler than any car you would come across these days. It looks rugged, compact, chic and surely modern. No news yet if they will push this into the conveyor belts but if they do, then it could well be the next Perodua model too.