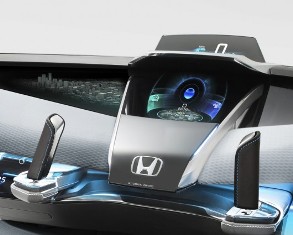 Japanese automotive giant Honda has announced that they will be showing off their new AC-X plug-in hybrid concept at the upcoming Tokyo Motor Show slated for the end of the month.
The concept which is also known as Advanced Cruiser-X in full will be part of the few 'electromotive concept models' which will be seen at Honda's booth at their home motor show then.
This would surely be an interesting model where if that is how the future is going to be, then it would exciting times indeed. No confirmation on the technical specifications yet but it is meant to be the next-generation of the plug-in hybrid model that is coming out of Honda and this is one which comes with adjustable aerodynamics bumper both in front and at the back. Judging by the pictures alone, the futuristic model will be fitted with the Honda Smart Connect, which is currently not released yet. This is basically something like a remote control that can be docked with information on the state of the charge of the engine and such.
In place of the steering is a pair of joysticks controller which lets you control the car as if you are playing a game. Not sure how that will pan out as yet but would be revolutionary anyhow. A heads up display seemed to be included as well while a 3D panoramic view of the surrounding is also made avail be through the entire dashboard.