Korean major automotive company Kia looked set to show of its latest concept model in the upcoming Frankfurt Motor Show.
The widely anticipated car show next month is seen as the springboard for many automotive players to showcase their intent for the upcoming year and Kia will be showing off their latest 4 door sedan concept then.
So far, they have yet to release much information on what the car could do. In fact, Kia has yet to even reveal its name although images of the cool concept is already out for the jury. At press time, they have only announced that it will be a rear-wheel drive, 4 seater car and is what the future design language which Kia will be embarking on.
According to Peter Schreyer, the chief design officer of Kia, it might not represent the future model of the company as yet but it would surely be their statement of intent that they are ready to move forward into the 'all-new chapter'. If the pictures are anything to go by, it surely constitutes a whole new design language for Kia which has been actively repositioning itself in recent year. The silvery motif of the body and its sleeker headlights can be clearly seen and if that is the future design of Kia cars, then it is surely worth waiting for.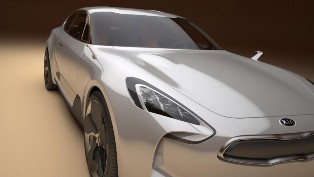 0