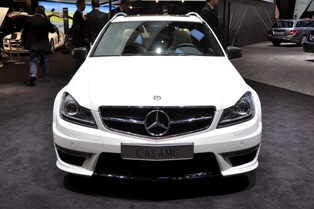 Mercedes-Benz, the sheer name of this car is enough to get to anyone that there will be no compromise to quality and technology and this is just what the German carmaker did when they showed off their 2012 Mercedes-Benz C63 AMG Estate at the recent Geneva show. Reinstating their position and claim as one of the most technologically advanced automotive companies around, the new AMG Estate put its foot down and kept it there.
They have created a more attractive C63 and with AMG in the fray, this would surely push the bar higher for anyone to even come close. The top of the range C Class comes with various enhancements and improvements which include the debut of the AMG SPEEDSHIFT MCT 7-speed sports transmission with "Controlled Efficiency" mode. This is a standard fitting which is ideally placed to work with the new power steering pump technology that is aimed to reduce fuel consumption.
It is powered up by the AMG 6.3-litre V8 engine that gets you up to 457 horses. If you desire, you can opt for the AMG Performance Package which comes with additions and gets you another 30 horses. The AMG Sports Suspension is included in this one for better if not excellent performance, handling and comfort.
They have given the design a new look with a wing-type transverse louvre while daytime running lights and side air outlets compliments of AMG too are fitted in. An aluminium made new bonnet is also included while moved by the 5 twin-spoke AMG light-alloy wheels which are titanium grey in colour. Rubbers come in the form of 235/40 R 18s for the front and 255/35 R 18s for the rear. As mentioned the performance package gets you more power and it takes only 4.4 seconds to reach 100 thanks to its SLS AMG technology that include forged pistons, connecting rods and a very light crankshaft.
You can also select the transmission modes namely C, S, S+, M and Race Start through its AMG sports seats while optionally, you can also use its designo leather appointment inside. There are also 11 new driving assistance systems that uses radar, camera and sensor technologies as safety features on the C63 AMG.