Now this is a brand which have been missing for quite a while. MG recently showed off their new concept car at the Beijing Motor Show.
Inspired by its former icons and models like the MG Roadster, they have rolled the covers off their first SUV and it is still in the concept level for now.
Called the MG Icon, it is led by Anthony Williams-Kenny who heads the MG Global Team responsible for this cool model. First look tells you that it looks very much like the Mini but it is actually based on the MGA and MGB GT where you get some of the latter's traits on the rear. Coming with a four 'shell' seat layout, you can actually completely fold down the rear seats while the lamps are fitted onto the top of the haunched wings which gives it quite a distinctive and unique look.
Other parts of the MG Icon is very much derived from the 2 legends and according to Williams-Kenny said that this pretty much dictates the global vision for the company and while they are not saying anything on whether it will go into production, this is used to mark the 50 years anniversary for the MG brand.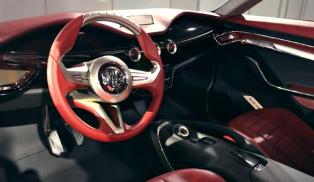 0