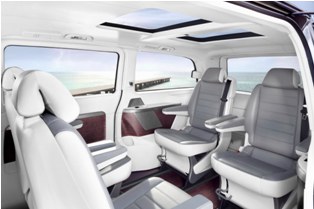 German automotive giant Mercedes Benz recently unveiled the Viano van at the just concluded Frankfurt Motor Show and this is where luxury meets space, and lots of them to begin with.
The Viano Vision Pearl has been touted as the 'Yacht on 4 Wheels' and it is the result of the former AMG head, Volker Mornhinweg which pushes the bar higher for MPVs of this segment. It was seen as what are the endless possibilities in a van where it comes with a full leather interior, hardwood floors as well as a Bang & Olufsen sound system known as the 'BeoSound Viano'.
If that is not luxurious enough, they have also put in the onboard W-LAN connectivity which means you are connected on the go. The Viano is designed for people who not only want to enjoy and relax at the destination but also throughout the journey too. Basically, the model is designed to tell the people what can be done in a van apart from just carrying cargo. With abundance space, one must say that the possibilities here are limitless. In fact, so confident are they of the model that it is known as the S-Class a among vans. Not too far from reality if you are the creators of the S-Class.