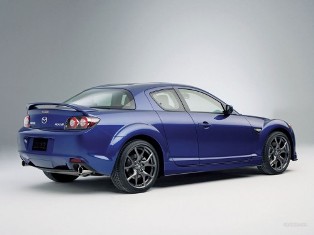 Everybody knows about the Mazda RX-7 and more so when they came out with the RX-8. This is the very iconic car known for its rotary engine system which have taken the world by storm.
More so with the model that came with the unique door-opening style which was a design beauty.
However, one can say goodbye to the icon which have pretty much put Mazda on the motorsports world map because this model has been discontinue. The only rotary powered car in the current range of Mazda cars, the RX-8 was discontinued due to falling sales as well as the more regulated standards pertaining to emissions around the world. This has put the RX-8 in a position where it cannot survive in the ever so challenging market. The global sales of the icon will end later this year where they are looking to clear off their inventory while production has already come to a halt.
According to Mazda, the engine has failed to meet the EU emission standards and with this model being shut out of Europe, it simply cannot justify the production costs anymore. In 2010, they rolled out only 1,134 RX-8s and the number has been dropping more this year. It might not be the end of the rotary-engine model from Mazda though as they are developing a new 1.6 liter model with lower emissions and better fuel economy.