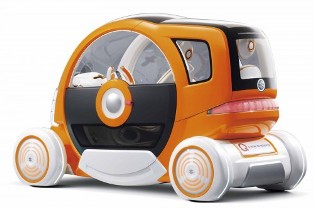 Suzuki has unveiled one of the most uniquely looking concepts ever at the Tokyo Motor Show in their Suzuki Q-concept. This would very well the future of motoring where it is a cross between a motorcycle and a typical car.
The vehicle is only 2.5 meter long where it only fits 2 passengers. This is where the motorcycle characteristic come into play as the passengers will sit in a tandem.
In terms of size, it is slight larger than a motorcycle where it looks very much like a small, compact car and it would quite the ideal vehicle to get around if one is driving within a 10km radius. For its size, it is very easy to manoeuvre while one need not use too much parking space. The main element that makes it different from a motorcycle is that it is much more spacious and surely more comfortable.
Apart from fitting 2 adults, the Q-concept is also able to fit a 2 person child seat at the back where the parent can easily ferry the kids around for shopping, to schools and such. No confirmation if the vehicle will make it to production but with mobility being the main issue these days, and the fact that it can be changed into a single seater with lots of cabin space ideal for delivery businesses, it might well be the future of transportation.